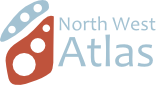 How to add data to the map:
Click on the green + button.
Click on the 'Overlay Layers' tab in the box that pops up.
Click on the + to the far left of a folder that interests you.
Click in the empty check box next to a data layer you want to see.
Repeat to turn on more data. Hit OK when you are done.